Where are we located?
The Dojo
We have a dedicated dojo for Karate training (Ground floor) . I think it is one of the best equipped dojo's in New Zealand.
We train on WKF approved jigsaw mats ( We actually own three full size sets of these mats)
There is a small area for Parents/Spectators to stay and watch or you can sit out of the deck in summer.
There is a small equipped Gym area for specialised training.
Come and and check out our Dojo.

Here are some of the construction stages of our Dojo: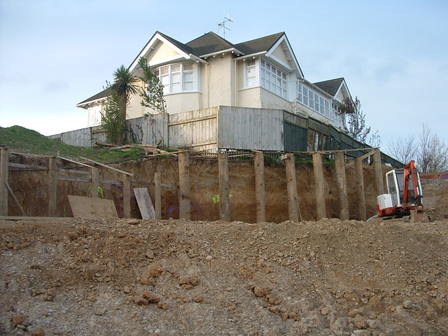 Club History
Our club has been around for a very long time.
We are very fortunate to have some of New Zealand's leading Karate instructors as our teachers.
We will be do a full history very soon.

Here is a photo: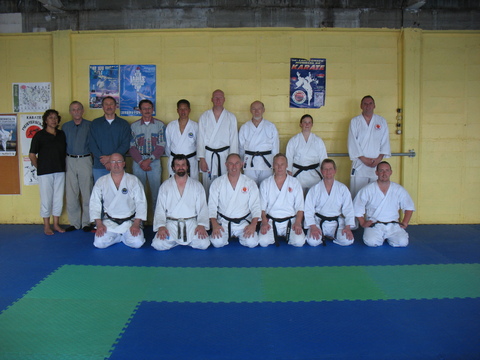 Gregor McLachlan
I have written a wee bit of a biography on my karate career and some of the people I have met in my travels. For some of you it may bring back some memories, I hope you enjoy it.
I first starting Karate in 1982. Brent Carr was our instructor and the karate style was Shotokan.
We also trained alongside other clubs such Foxton Seishin ryu (Bill Harvey) and Feilding (Rex Painter)
We had a very good background of karate, although we were Shotokan (Chidokan based) we were very fortunate to have Bill Hall's charismatic karate influence.
We also had strong connections to other clubs such as Seishin Ryu (Now Fushin ryu) and other Chidokan based clubs.
In 1992 I took over as instructor from Bill Hall.
In 1999 The club starting learning the style of Wado Kai after affiliating with Sensei Robbie Smith (NZKW- Hamilton).
The style of Wado has helped developed our karate to a very high standard. This is because of Sensei Robbie's commitment and focus teaching within the NZKW and the strong connection to Japan's finest Karate instructors..
I am also very fortunate to have a close relationship with all my previous instructors and would like to thank them for there support on my Karate journey, they are:
Sensei Len Monk for keeping my on the straight and narrow and Sensei Bill Hall who has such a unique and charismatic way of teaching karate.
Competition Career
(this is a long story, but may bring back a few memories to others who competed during this period)
My competition career started in 1983 at local events and regional tournaments. I loved competing especially in Kumite (sparring) and quite often we would spend most of weekend training or traveling around the lower North island looking for Tournaments.
We started attending the Lower North Island regional events (UNZKO), this opened my eyes in competing and were fortunate enough to see some of New Zealands top competitors. This also started our competitive rivarlry with the other clubs in the region like Keishin kan, Renbudan IOGKF clubs, Seikukan and many others.
My first national event was around 1985, this was real exciting, different clubs more competitors and new techniques to see and learn. Again the rivalry between the North and South was strong especially Auckland clubs, real exciting stuff.
My first successful nationals was 1988, where I won gold in the 75-80kg class, from this time I competed continuosly to 1998 at National events.
I guess I was very will known for my kicks.
My overall success in New Zealand Nationals or NZ open is the following (I've only counted UNZKO events, because this was NZ's Cream of competitors, although I did take part in many non UNZKO events):
NZ Nationals (UNZKO)
Weight class:
1st place: 1988, 1993,1995, 1996, 1997
Runner up: 1990, 1991, 1994, 1998
Open weight Class:
1st place: 1995, 1996, 1997, 1998
3rd place: 1990, 1991
Team events:
1st place 1994, 1995, 1996
3rd place 1991, 1993
NZ Open ( Introduced in 1996)
Weight Class
1st place 1997
Runner up 1998
Open Class
1st place 1997, 1998

Team events
1st place 1998
I really enjoyed my competition days and the divisions were very big (up 30-40 competitors in Open weight class). We also had some really good tournament staff and lots of clubs competing.
I would like to acknowledge the competitors from my era and the early days: Braedyn Birse, Joe
Tait, Mike Flanagan, Chidokan, KSK, Goju competitors and so many others. Karate was raw, tough and respectful, with some great social memories.

International Career/Test series
My first international event was an invitation to New Caledonia in 1990. This was the beginning for the Oceania Championships.
This was a good event and I learnt about what you had to do to make your weight class. We were treated like royalty by the local clubs and stayed completely free at Keundo Beach resort for a week.
The tournament went pretty good until the final where I got disqualified with too much contact (knocked out two of his teeth), oh well! It wasn't to be the last.
I was selected to attended the World champs in Mexico but didn't have enough funding.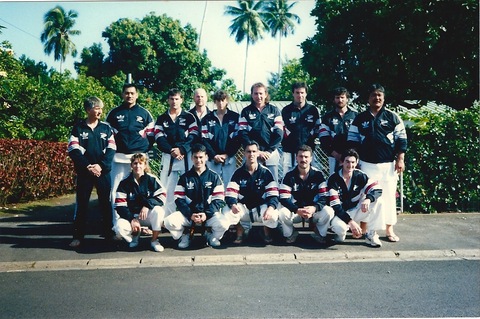 1991:
This was one my first real full on year competing Internationally. Oceania was held in Tahiti, it's probable one of the most enjoyable. We had a great team and one of the best coached trips thanks to Gary Luton (Taupo MODKA). I won gold in my weight class and we narrowly lost the team event against Australia. I also broke a bone in my foot hitting one of the Tahitians in the head. I didn't lose any fights at this tournament and started my reputation for Jodan Mawashi geri's (round house kicks to the head) Even French Ref Ortega was impressed.
The Asian Pacific games was held 4 weeks later, so I didn't have much time to get my foot ready. This was NZ's biggest event with 14 countries and Japan had one of there strongest teams featuring over 10 World champions in Kata and kumite. As expected Japan won all but one final. I had a reasonable event but one with contriversay. In the team fights we got cleaned up by Japan, we met Ausie for a repercharge, i was #4 fighter, but our first three boys didn't go to well, however I had a good fight and my feet were on target and had a good win over the Aussie ( I even had some claim to fame time by being on TV1 sports news)
In the individual round (-75kg) I faced Japan (Hayashi) He was a current world champion. It started alright, he was leading about 2-1, then I pulled out one of my kicks to his head. I was now leading 4-2. Then we had a clash and Hayashi had a bleeding nose, the ref disqualified me straight away without any warning. The ref was an Aussie (of course) the crowd went ballastic and this caused some real problems with some of the officials. Hayashi was really good about it and awknowledged the kick and ref's bad dicision.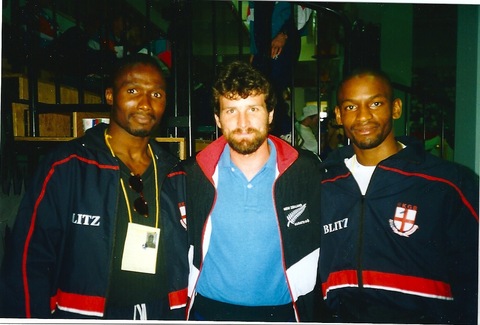 1992:
My first World champs in Granada, Spain. This is still rates as the best event for me. The crowds were huge everyday about 10000-15000 each day. This was the first time to see all the superstars of karate. Egea, Pinna, Otto, Cole, Lehetet, and of course all the top coaches and instructors. We had a small team, Phil Liang, Braedyn Birsee, Sean Hayden, Kevin Collins, Anton Zawada, Tuhi Leef, Paul and Glenn from Hamilton Goju Ryu.
The team fight was against Croatia. They had a guy called Idrizi, who loved spinning kicks as Anton found. I had a good fight scoring two head kicks. Overall we lost this. Spain went on to win this event in front of there home crowd.
In my individual class (-75kg) I had a bye first round, second round I faced Argentina, a close fight going into extra time. I won the extra time with a nice head kick, he was really angry. In the 3rd round I faced an Egytian, this was a 1-0 victory to him. I was the first Kiwi get this far in Kumite at a world champs. Wayne Otto won the weight class. Hayashi won Ippon Shobu (Bare Knuckles). This was probable the most exciting event that was never held again at World level (not enough Doctors).
1993:
Not a busy year, I competed at Oceania, didn't really fire up in the individual class, but in Team event we fought Aussie in final, which went down to and extra fight after the count back was a draw. We lost again to those damn Aussie's.
1994:
The world champs were in Maylasia, this was a let down compared to Spain. I fought Spain (Herreros) first round, he gave me a good wack in the head and the ref scored this, I decided to hit him back and the ref penalised me losing a point. Hereros was world team champion so I eventually lost 4-0, he went on pick up a medal. Very small team of Braedyn, Kevin, Stella and Brenda.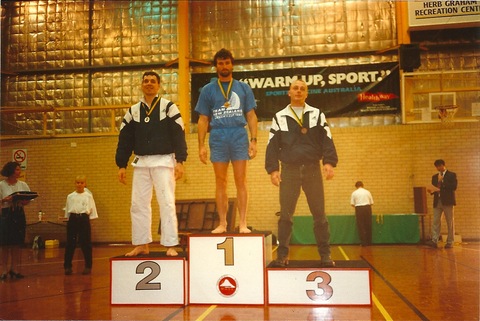 1995:
I went to Perth to compete at the Aussie Open. You can enter the Aussie open an individual, so there are a lot of competitors. I went on winning my weight class. I think I was the first NZer to win at this tournament.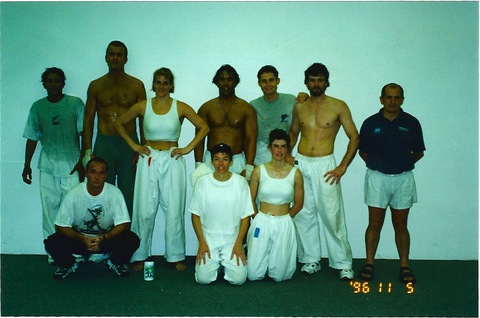 1996:
The World champs were held in Sun City, South Africa. Wow what a place. We had a good team, Braedyn, Thomas, Mark, Prak, Lorraine, Stella and Ciska. Pat McGregor was coach.
We fought South Africa in the first round of Teams. I fought Shane Dorfman, but I was a bit heavy handed and got disqulaified with too much contact, they went on to beat us. The team event final was between England and France. England dominated the 1980's (five in row) and France were starting to dominate the 1990's. The final went to down to the wire and after 5 fights it was even. Wayne Otto went out to fight and lost by 1 point.
This was my best event ever in my weight class (-75kg) I beat Croatia in the first round, then i faced a Canadian, beating him. Then it was Japan (Kokuban) he beat me 4-0, he went on to the finals and I got a repercharge. I faced Indonesia in the 4th round and beat him. By the 5th round I was getting really tired and I was up against a tall spanish fighter (Garcia) he beat me with is long reach. He went onto a bronze medal and I made to 5th placing. The furtherest a NZ has very got (beating my 3rd round from Spain) I don't think this has been beaten by any Male kumite competitor at a World champs since.
1997:
I attended my first World cup in Manilla, Philipines, The world cup was held between each world champs (World champs are held every two tears) this was a small team and no coach.
The weight divisions are bigger and no Team events. I fought in the -78kg. The 1st round i beat Hong Kong, 2nd round I beat South Africa, I lost the 3rd round to Croatia ( I Think). So really pleased with my efforts getting in the last 16 fighters.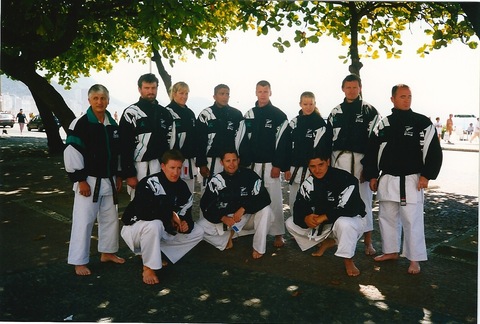 1998:
This was a tough year or me. The body was a bit tired and bruised and mind wasn't in the right place. We also had two test series against South Africa, one in Johannesburg and the other in Wellington.
We had a very good large team, the build up was good due to Phil Laing's coaching skills and Antonia Oliver's coaching camps. The team included Braedyn, Prak, Robbie Smith (Kata/Kumite) Chris Bennett, Craig Whitcombe (My own student) Stella and Tina Lee (Female Kata)
In the team event we fought Slovenia (I Think) we lost, the French won the teams event again. In my weight class I had a good draw (Dutchman), but I wasn't really concentrating enough and lost 2-1 giving my opponent a point for stepping out twice. The others did very well and Breadyn and Stella went on to a 5th placing each. This was my last World champs, so a bit disapointing to finish this way.
Between 1993-1998 I travelled to Australia almost every year to compete, on top of the tournaments above I competed at.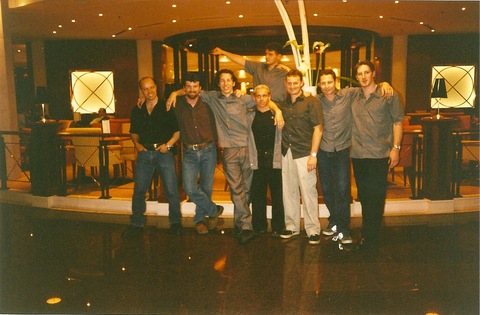 2000:
Assistant Coach at World champs Munich. This was a fantastic event and run very well as expected from the Germans. Craig Whitcombe was our NZ Rep from our club. He had a tough first fight against the German heavy weight and lost. Johnny Kennerdy had great event and went on the top eight. A good team with Antonio Oliver assisting with Coaching.
Test Series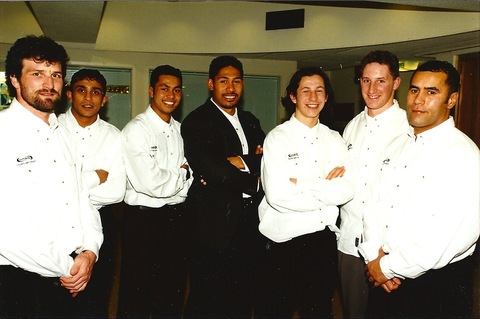 These were great events and really will promoted. They were team fights only with 5 men and 3 women. Winning is on how many fights or you can draw fights. So if each team wins two fights and the last person draws, then there is a countback on the most ippons.
1997:
Against Australia in Wellington. I drew both my fights and on countback we just lost out to them again.
1998:
This was in Wellington against South Africa, I won both my fights, but we lost on a countback.
We went to South Africa later in the year (Johannesburg) I won one and lost one and as you guessed it we lost the series. A long year for me. 1999 Test series against South Africa, I was Captain, our team was strong. the first round was in Auckland I won one and lost one, overall we won this round. The last round was in Wellington, which is really our home crowd. There was a lot of pressure on us to win and the crowd was huge. We all went well I won both my fights and overall we won finally. This was our first test series win. So in at the after match function I decided to retire from International events. I enjoyed my career it is always awkward when it is time to stop, but life got busy and I found it very difficult to fit in everything including work, family life, teaching karate and trying to keep my own personal training going. I think my peak was around 1995-1997. I won all events I entered in New Zealand and had some real good international results. I was really fortunate to have competed internationally in the 1990's. Karate NZ had some really good depth in there competitors and we had a couple of hard core managers and promoters who wanted to put karate in the limelight, and they did succeed with this. I think the 1990's also had the real super stars of karate, such as Otto, Cole, Pinna, Kokubun, Herreros, Lehetet, Biamonti, Yagi, Milon, Watanabe, Hasegawa brothers, so many great competitors where kumite was hard and fierce and minimal padding required and kata was clean and sharp without the sound affects.
My Other Interests:
I do have a few interests outside Karate.

My family: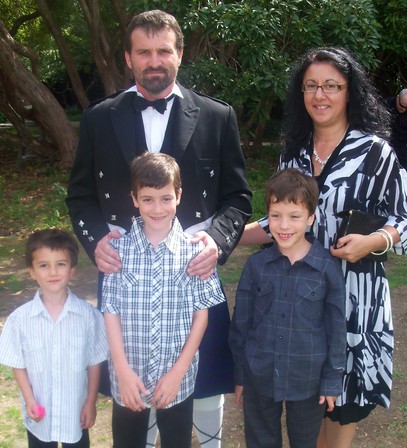 I enjoy all forms of motor racing both Cars and motorbikes.
I have been riding dirt bikes for over 30 years and have been collecting VMX bikes for sometime.
I love old thumpers (4 strokes)
I am restoring a Yamaha TT500e, also building up a HL500 to race in VMX.
I also have a few other bikes on the go as well as an old 1930 Ford roadster.
(Basically I'm a bit of hoarder)